Kitchens that impress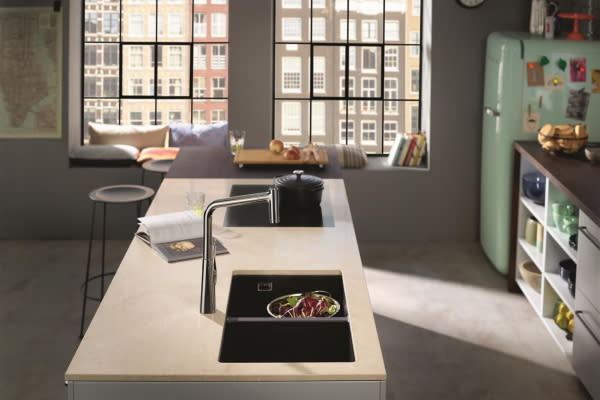 Whilst the kitchen's main purpose as a place of food preparation has endured, society has seen some significant changes over the years to this 'the heart of the home'. Kitchens have increasingly become social spaces, and showpieces in their own right.
Hansgrohe are specialists in this department, adding both functional and aesthetic value to the kitchen. We've taken a snoop around some of their latest releases in the sink and mixer sector.
Hansgrohe excels in the kitchen sink department. Whether stainless steel or SilicaTec (pictured here in graphiteblack), they offer a variety of configurations, styles and colours to suit all tastes.
Their ComfortZone mixer is a cool addition to the kitchen space. Available in eye-catching black, it blends sophistication with a veritable must-have list of functionality – including pull-out and swivel spouts.
We welcome Hansgrohe's sleek aesthetic to #DJC21 line-up, where you can explore not only their kitchen expertise, but their bathroomware, too.