INTRODUCING: MADE IT TO THE RAFT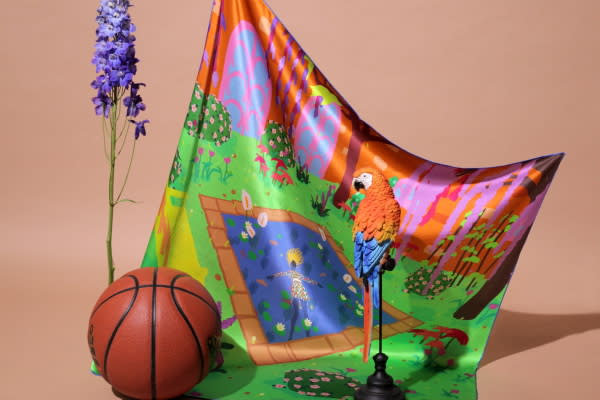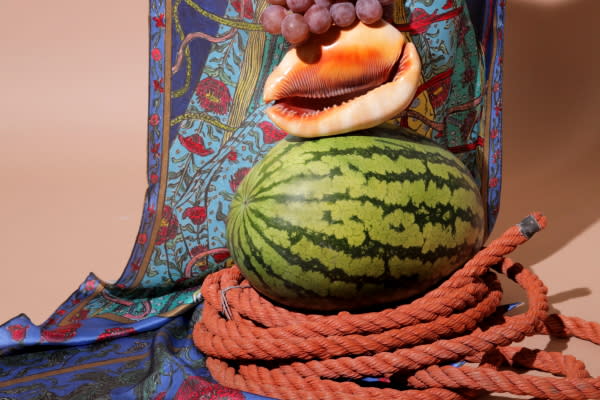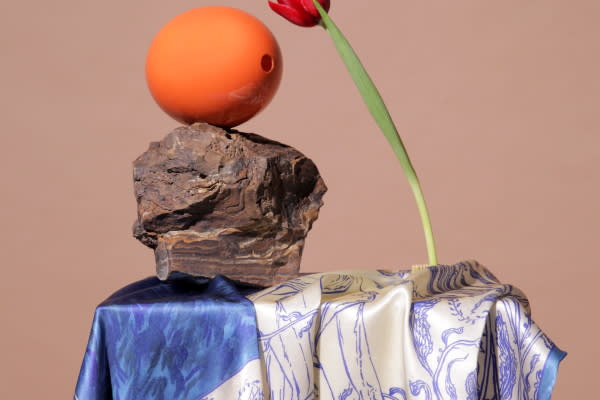 As #DJC21Summer welcomes sister-precinct 44 Stanley to our summer lineup, we're thrilled that many local creatives are choosing the expanded DJC platform to launch new collections. An exciting example is 'Made it to the life raft'. This limited-edition range of silk scarves by South African visual artists will be unveiled at 44 Stanley's Guillotine Design (as well as on Latitudes Online).
'Made it to the life raft' is an initiative by L'MAD Collection and Latitudes Online. L'MAD is a luxury label that works with select contemporary African artists to create beautiful, limited-edition garments, accessories, and bespoke collections from natural fabrics. The ethos behind the brand is to celebrate cutting-edge design from across the continent. Latitudes Online, in turn, is the largest marketplace for contemporary art from Africa.
The featured artists in the 'Made it to the life raft' collection are:
Cinthia Sifa Mulanga
Cinthia Sifa Mulanga's work explores beauty constructs through her lived experience as an African woman. Using mixed media, she creates moments and conversations within domestic spaces, which function to challenge stereotypes and interrogate misconceptions.
Shakil Solanki
Shakil Solanki's work is informed by his South Asian heritage and identity as a queer, brown man. His deeply personal paintings and prints convey experiences of heartbreak, pain and vulnerability.
Io Makandal
Io Makandal works primarily with drawing, photography and installation. Her practice is concerned with feminist and environmental embodiments of process and the binary between nature and artifice.
Maja Maljević
Born in Serbia and based in South Africa for over twenty years, Maja Maljević's particular style brings together drips, blocks, bands and waves of colour, as she searches for harmony between colour and form, line and shape, expansive surface and small detail.
Jana+Koos
The multidisciplinary art collective, Jana+Koos, creates work across art, fashion, graphic design, photography, interiors and illustration, and is known for experimentation, play and their irreverent sense of humour.
Olivié Keck
Olivié Keck relishes loud colours, juxtaposing ideas, jumbled associations, and subverting expectations. There's a 'pleasure spiked with pain' feeling about her work, which captures her experience of the world.
Pebofatso Mokoena
Painter and printmaker Pebofatso Mokoena's practice is underscored by precise mark-making and division of space. His work orbits between critical discourses across the spheres of visual art architecture, global culture and aesthetics.
Puleng Mongale
Puleng Mongale's imagined, photoshopped landscapes are vivid renderings of a life she yearns for; a form of intensely personal catharsis into which she inserts images of herself, reinventing her life and creating new contexts.
Pop into Guillotine Design to see this new scarf collection 'in the flesh' or hop over to Latitudes Online, online, for more.
As part of DJC's talks programme, you can also catch artists Cinthia Sifa Mulanga and Puleng Mongale in conversation with fashion designer Lisa Jaffee of Guillotine Design, at The Bioscope in 44 Stanley, on Saturday 30 October at 10am.
www.latitudes.online and www.guillotinebylisajaffe.com