A roundup of some of our leading participating brands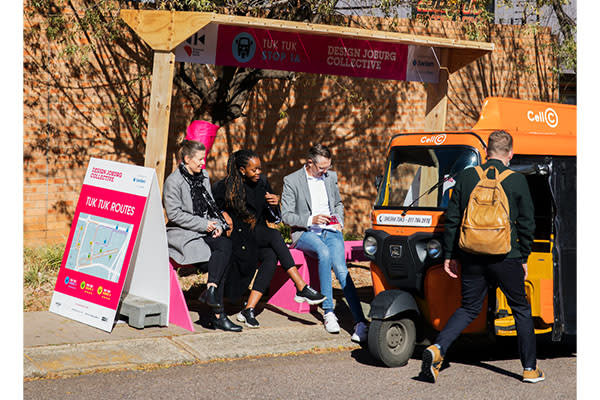 When Covid-19 made traditional exhibitions impossible, the Design Joburg team took quick action to create a new way of satiating the appetites of décor and design devotees. The result is the Design Joburg Collective (DJC).
The inaugural showcase recently took place from the 3rd to the 5th of June, with Johannesburg's Kramerville Design District playing host. This urban showcase, with Sanlam Private Wealth staying on as the headline sponsorship partner, is an exhibition that's close in style and pace to our sister show Clerkenwell Design Week, who were, in fact, instrumental in helping us realise DJC.
Despite Covid-19 restrictions, DJC was a runaway success. This suburb-sized showcase has been a thrilling first for South Africa. So much so that the Media 10 team in South Africa is thrilled to announce Design Joburg Collective: Summer Edition (#DJC21SUMMER). This will once again take place within the streets and showrooms of the Kramerville Design District. Dates will run from the 28th to the 31st of October 2021. It's the summer edition Joburg has demanded!
In the meantime we highlight some fresh collaborations, product launches, art exhibits and décor and design inspiration from our recent DJC (winter) showcase.
ST LEGER & VINEY
St Leger & Viney has some of the biggest brands in the textile industry (think Cole & Son, GP & J Baker or Thibaut) in their stable. They've been supplying high end fabrics and wallpapers to the local trade since 1989.
You can always rely on them for something new (and beautiful) and their latest Granada collection certainly doesn't disappoint. This fabric ensemble is ripe with the allure and exoticism of North Africa and Southern Europe and is inspired by archival prints and manufactured right here in SA.
The slubby hopsack base cloth onto which pomegranates, flowers and ikat stripes, are hand printed has also been made locally and lends the collection it's wonderful, understated aesthetic.
Besides unveiling several new fabric and wallpaper collections at DJC – from the likes of Elitis and Mind The Gap – St Leger & Viney also played host to several talks from industry leaders such as interior designer Tessa Proudfoot.
ILVE
ILVE South Africa were a welcome addition to the Design Joburg Collective line-up.
For those new to the ILVE brand, they're specialists in luxury kitchen appliances and have long been a staple in the Kramerville Design District.
At DJC we fell head over heels with their Professional Plus cooker, which ILVE offers in an array of finishes. These include the more traditional white, black and stainless steel – but this special edition yellow model put a big smile on our faces.
The finishes are not the only optional extras available, though. With ILVE, you can customise your cooker to suit your practical and aesthetic needs.
Their appliance range also includes hobs, ovens, blast chillers and hoods – all made to the exacting specifications of the best restaurants in the world. Who can argue with that?
COCOON LIFESTYLE
Cocoon Lifestyle is an interior design and décor studio headed up by the talented Bilala Kanye Mabuza. Besides her obvious sense of style and uncompromising work ethic, Bilala is also known for her support of local art, design, and the creative community in general.
Cocoon Lifestlye hosted the Joburg launch of The Urbanative's latest furniture and accessory collection, entitled 'Homecoming', a highlight for visitors.
Homecoming features work by a veritable who's who of South African design and craft talent. The collection comprises sculptural lights, a generous sofa, lounge chair, tables and ottoman – as well as wonderfully tactile and amorphic ceramics from Jan Ernst. Other accessories include a modern take on a school quilt, a beautifully crafted mirror, and candleware in collab with Okra Candles.
Besides hosting Homecoming, Cocoon Lifestyle also curated some in-studio conversations with artist and poet Thokozani Mthiyane, and art and framing specialist Monalisa Molefe from ArtForm Factory taking centre stage.
ROCHE BOBOIS
You might know Roche Bobois for their premium European design and furniture (many of which were front-and-centre), but the brand's 27 Commerce Crescent showroom was also the location for an art packed DJC program.
Visitors took in an array of work on display including work by French artist Catherine Timotei. Art of Connection, a nomadic gallery representing various local and continental artists, also showcased exclusive pieces of African design and craftsmanship with a focus on the rise of embroidery (or fibre art). Several local studios – including Kaross Art, Keiskama Art Project, Kopanang Community and Mapula Embroideries.
Local art advocate and curator Leigh Rein boasts a portfolio of about 15 artists who were also exhibiting at Roche Bobois. Some artists were also there in person so visitors connected with them directly (masked and sanitised of course) about their work.
DOMUM
Kramerville is home to DOMUM who are purveyors of some of the best European design brands in South Africa. They are the official home of leading design icons such as ⁠Bulthaup, Rimadesio, Carl Hansen & Søn and Dinesen.
DJC visitors were treated to new innovations across Domum's stable including the new Vanity (storage system range) courtesy of Rimadesio and the b2 kitchen collection from Bulthaup.
We were impressed with their focus on space-saving solutions executed with the most impressive sense of style and their clever use of varying materials. They always manage to get the alchemy just right: a perfect combination of simplicity, thought-out detailing, and the finest craftsmanship.
DONALD NXUMALO x TREVOR STUURMAN
As Design Joburg's current Creative Director, Donald Nxumalo hosted a collection of new photographic works by photographer and sartorialist of the moment, Trevor Stuurman. Visitors enjoyed a selection of compelling work from this globally celebrated creative whose image-making is redefining the African narrative and shedding the tired Western gaze.
www.donaldnxumalo.com and www.trevorstuurman.com
STUART GRAHAM FABRICS
Stuart Graham Fabrics unveiled new fabric and wallpaper collections from their 'Prestigious' brand at DJC.
Prestigious brings an array of new collections to South African shores and visitors enjoyed seeing these in the flesh.
From the sophisticated Serengeti-inspired 'Tribe' collection and the Mondrian-esc geometry of 'Muse', to the dinosaur, hot-air balloon and under-the-sea inspired kiddies collection entitled 'Big Adventure', we were lapping it all up.
These are conversation starter collections that are balanced by more intimate patterns and the simplicity of their corresponding plains.
CORICRAFT
You've heard of the capsule wardrobe? Well, Coricraft has taken this 'compressed' fashion concept and launched the equivalent within the furniture sector. And DJC attendees were loving it!
The Essentials collection - clean, contemporary designs, carefully curated for a mindful, minimal space – was a big hit at DJC. It's all part of the global microliving trend: a move towards small yet cleverly designed spaces (like lofts and mini-apartments). In these homes, storage is situated behind sliding doors with a capsule-wardrobe inspired sense of style.
With Essentials, Coricraft is catering for young professionals. But, they're not just talking to those who are starting out, but also a more established market who are perhaps scaling down or looking for a more modern take on their homes.
Visitors were equally inspired by Coricraft's Homeward Bound winter edit that packed a seasonal style punch.
LA GRANGE INTERIORS
Since Design Joburg's inception, celebrated South African interior designer Sumari Krige, of La Grange Interiors, has played a pivotal role in the show. Her stylish furniture and décor showroom was a magnet for style and art savvy visitors.
Collaborating with Turbine Art Fair, a much-loved source for many of Joburg's art collectors, La Grange Interiors played host to this art and design mashup.
This specially curated exhibition of work from an array of exciting young South African artists like Abongile Sidzumo, Kylie Wentzel, Balekane Legoabe, Neil Badenhorst, Nandipha Mntambo, Siyabonga Mlmabi and Tafadzwa Masudi's, had heads turning.
www.lagrangeinteriors.co.za and www.turbineartfair.co.za
SEMPER FORTIS
Semper Fortis is known for their expertise in handcrafted furniture. More than this, they love telling the stories of their customers through the furniture they create. ⁠
⁠
At Design Joburg we're known to be partial to collaboration, so when @semperfortis_sa showed us some of their latest creations, made using winning fabrics from Romo, Hertex and Urban Fabrics, our interest was piqued. ⁠The results were pretty spectacular.
The Semper Fortis showroom also played host to various talks from leaders in the industry including interior designers Nthabi Taukobong and Nelson Kubheka. ⁠
⁠
www.semperfortis.co.za
EURO APPLIANCES
Euro Appliances SA were a welcome addition to the DJC line-up. They launched two innovative products at this year's showcase, which tick the boxes (or is that barrels?) for wine buffs.
Visitors to their showroom experienced the exclusive Sub-Zero Wolf range of refrigeration products. Another product we love, the Kaleo, is the perfect serving companion. An in-counter cooling cylinder, it maintains the temperature of chilled beverages as you enjoy them – perfect for wine, champagne, craft beer, carafes, bottled water, and spirits.
To celebrate 25 years of luxury and exclusivity, Euro Appliances also hosted a series of talks in their Kramerville showroom. These centred around their speciality products by brands like Liebherr, Miele and Gaggenau.
TONIC
One of DJC's programme highlights was undoubtedly the Tonic showroom. As the show's previous Creative Directors, this legendary design duo's creations are always total eye-candy.

Their new Cannes and Cigarette collections did not disappoint. The cheeky Cigarette Side Table comes in an array of two-tone colour options such as Cachous and Candy Apple. Whilst the Cannes cabinet was created for those who take their storage seriously. It features two oversized circular oxidised brass handles, and is finished in your choice of Cobalt, New York Pink, Russet or London Grey.
ALIFURN
Given South Africa's upward of 2500 hours of sunshine annually, we're well positioned to take advantage of living outdoors for a good portion of the year. Alifurn is a local family-run and owned outdoor furniture brand that is well positioned to satisfy our needs for the latest in alfresco lounging and dining.
There are no short cuts for this committed team who produce high-grade outdoor furniture right here in SA and visitors were treated to their array of weather-resistant choices including fibre-cane and aluminium.
The recent addition of a new outdoor collection entitled Purpose, has us wanting to get back to nature. Purpose offers the opportunity to live, well, with purpose!
Alifurn is available from the Semper Fortis showroom in Kramerville.
LIFESTYLE CERAMICS
Given their 30 years of experience, Lifestyle Ceramics clearly knows a thing or two about bathrooms and tiles. They certainly brought their expertise to the DJC line-up.
Although proudly South African, the Lifestyle Ceramics team work with the world's most desirable brands. So, South Africans have access to the latest international designs in sanitaryware, taps, vanities, slabs and tiles. Their product list reads like a veritable who's-who: including the likes of Kohler, Versace and Roberto Cavalli, all of which were on display this June.
FURNITURESPOT
If anything good has come from Covid-19, it's that we've learned a lot about buying local. So, visitors were rather excited when Furniturespot signed up to the DJC line-up. They're big believers in 'design for everyone', and we echo that sentiment.
Their support of local crafters is quite noteworthy, as is their dedication to quality and fair pricing. This is a win-win formula, as customers benefit and so does the South African design and manufacturing industry.
From an aesthetic perspective, Furniturespot's offering is distinctly modern. We were crushing on quite a few of their bed and sofa designs… although it was hard to choose a favourite.
HERTEX
We're big fans of the Hertex offering: covetable local and international fabrics and wallpaper, as well as their homeware collections within their Haus brand.
We were particularly thrilled to see their new jacquard collection entitled 'Mombasa'. Great for scatters and upholstery, this ticks all the texture, pattern and versatility boxes. The palette mixes elegant earth tones with ethnic designs, completing a collection that is literally out of Africa.
Mombasa recalls the textured flat-woven fabric collections that were all the rage in the '80s but updated here for contemporary living. With chunky weaves making a comeback, we were thrilled to see the collection boasting these weightier textures.
Mombasa certainly does tick the usability box. Visitors loved seeing it and other new fabric and wallpaper collections, all presented by Hertex's expert and knowledgeable team at DJC this June.
DESIGN PLUS
Design Plus has been a part of the Joburg furniture scene since 1986. Constantly in touch with global and local trends, their knowledgeable team offers a well-curated collection. Besides their array of furniture items for living, dining, bedroom, study, patio (and every other room in between), they also present their fans with a varied choice of decorative accessories, lighting, rugs and art. They were a welcome addition to the DJC line-up and made for many an Instagram moment.

www.designplus.co.za
SHF
SHF have become pioneers of 'design fusion' in the South African scene. They have an effortless ability to blend styles – ranging from contemporary and industrial to classic and even Gothic. As a result, the brand is now a firm favourite amongst a diverse (and ever growing) crowd of decoristas.
Think of SHF as positive disruptors, upping the innovation of the local furniture and décor scene. In fact, for DJC they asked four designers to do some disrupting within their own Kramerville showroom. Very much modelled on Design Joburg's CoLab features (a favourite attraction at the Sandton Convention Centre show), SHF tasked these designers to create evocative roomsets – challenging the conventional showroom environment. SHF called this concept the 'Design-Takeover'.
Visitors marveled at the decorative talents of Heather Boting, Siyabesho, Zimkhitha and Maison by ray as they put their own stamp on SHF's offering. These roomsets pushed boundaries and offered heaps of inspiration.
HOME FABRICS
Our enthusiasm for Home Fabrics stems from their extensive selection of fabrics and wallpapers. The DJC team can often be found in their stylish showroom – distracted from our work – taking in their beautiful collections.
There's an obvious passion for textiles and innovation here. You'll find upholstery and curtaining fabrics (both for indoors and out), as well as wall coverings and contract collections.
We, and DJC visitors, were particularly thrilled with their innovative FibreGuard collection of fabrics. This is a seriously smart offering that ticks both the usability and style boxes. Stain-free technology means low maintenance and longevity without losing that sense of sumptuousness or tactility.
An array of special displays and talks were also a highlight.
EUROCASA
Situated at the top of Archimedes Street in Kramerville, Eurocasa covetable style was a welcome addition to DJC.
The team at Eurocasa are the experts in kitchen and bedroom cabinetry, and bring over 20 years of expertise (and luxury) to South African homes. They manage to combine a sense of timelessness with a feeling of intimacy. It's a juxtaposition that allows them to cater to a client's personality and specific requirements – creating very special spaces.
Clearly, craftsmanship is key, here. We're big advocates of artisanal skills and generational creative thinking at Design Joburg Collective. We think the world needs more of that.
Besides their expertise in the kitchen and bedroom space, Eurocasa also offers a furniture range, including sofas, seating, tables and cabinetry. All ooze Italian sophistication. Attendees loved the latest insights into their latest kitchens and furniture collections courtesy of Italian brands Febal Casa and Rossana. Just bellissimo!
DREAMWEAVER
Dreamweaver is a boutique wallpaper and fabric house backed by decades of experience in the industry. They distribute some of the DJC team's best-loved international brands liked Eijffinger, Marimekko, Armani Casa and Missoni Home.
According to owner Haidee Kramer, the current trends all revolve around escapism and nature, in the literal and abstract sense. This trend has only increased with the impact of COVID-19 on our wellbeing.
A beautiful case in point is Dutch wallpaper house Eijffinger's new Terra wallpaper collection. This new range is bursting with an infusion of rich tones of the earth - think red deserts, grassy plains and fern-like flora – and we love the vibrant hues and textures.
To sum up her latest additions at Dreamweaver Studios, Haidee references the zeitgeist of our global needs using the Dutch term niksen which calls for valuing health and wellbeing and a literal winding down. And we all lapped it up at DJC this June.
PAINTSMITHS
These are the go-to guys for all your eco-paint requirements. From walls, floors and ceilings to outdoor paint, they have the widest range of paints on the local market without any VOCs, offering you transparency and more ethical choices for the environmentally conscious.
They also specialise in cornices and textured wall panels by @oracdecorsa_official (whose pop-up installation also delighted visitors) that are easy to paint in your desired finish of choice.
Besides their inspiring Kramerville showroom, they also boast a further 34 stores across South Africa. Their clever mode of interlocking circular paint samples were also a hit.
HOMEWOOD
Homewood joined the DJC line-up this June courtesy of the DTI (Department of Trade & Industry). They are manufacturers of a wide range of crafted indoor, patio and outdoor furniture and smalls in a selection of solid hardwoods.

Many of Homewood's furniture items display striking weave patterns that have their roots in the Zulu weaving tradition. Carried out by talented local weavers in KZN, at their Lidgetton factory on the Midlands Meander, their weaved furniture is made with meticulous attention to detail. Visitors loved seeing their furniture collection in the flesh.
COLLARO
As homegrown brands go, this one is up there with the best. Their legacy and continued commitment to quality and craftsmanship get our thumbs up. They believe in storytelling through their creations, and have spent the last 39 years refining their processes.
In a world of over-consumption, we believe Collaro's offering is an authentic one and at DJC they lived up to this promise. We were especially thrilled with their reveal of their latest kitchen design and crafting offering.
BSH HOME APPLIANCES
If it's distinguished European appliances you're after then this is where you'll find them. Technology meets design in what appears to be an effortless union at BSH Home Appliances.
This Kramerville-based appliance expert (and favourite amongst those in the know) represents some of the best European names around, including Bosch, Siemens and Gaggenau.
Whether design connoisseur, appliance anorak or avid cook, visitors were offered much more than your regular appliance showroom, this is a kitchen experience like no other.
DASKASAS
DasKasas is a one-stop-shop for elegant furniture, object, and décor accessories – and even a customised curtains and blinds offering. Whilst by no means a newcomer to the South African scene, having spent many years servicing the wholesale and retail markets, they opened their first retail outlet last year and delighted DJC attendees with their timeless design and exquisite detailing in pieces that are destined to become heirlooms.