A FRIDAY FEAST OF DESIGN DELICIOUSNESS: DAY 2 OF #DJC21SUMMER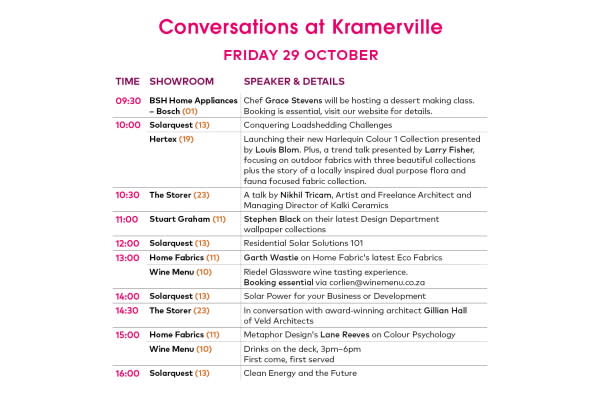 Day two has arrived! We couldn't be more excited about our star-studded lineup of local and international products, services and talent on-show!
As we head into the weekend, participating showrooms and brands are upping the ante, so be sure to come and join the celebrations.
Today will see more talks and demonstrations across all three of our participating neighborhoods. (Check out our website for more details.) There are also exciting exhibits and installations to satisfy both creative critics and casual observers.
For those yielding to the urge for some retail therapy, head over to our pop-ups: offering crafts, fabrics, ceramics and more. You'll find these over at Kramerville Corner, together with our Fourways Farmers Market and the Double Dutch restaurant and bar. Both will be satiating appetites and thirsts, allowing you to head back to our showcase refreshed and revived!
The weekend promises more delights in all things décor, design, gastro, arts and crafts. Don't delay: the showcase runs until this Sunday, 31st of October!
Remember, it's free to attend – but registration is vital over at our site.
www.designjoburgcollective.com