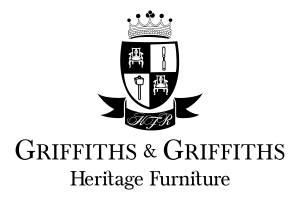 Every home has a story. What's yours?
At Griffiths & Griffiths, we believe a historical piece of furniture can infuse any room with a lifetime of legacy - whether it's a treasured family heirloom, or an antique replica. Our solid mahogany pieces are inspired by the Georgian and Regency periods in the history of classical English furniture, and are hand-carved to the finest detail.
When beauty, heritage and function combine, the result is a timelessly elegant home that tells the tale of years gone by.
Let us help you write yours.
A family-run business over 35 years in the making, Griffiths & Griffiths has become the continent's premier supplier of bespoke antique replica furniture. Led by a dynamic mother-and-son duo - Gladys and Peter Griffiths - we proudly enjoy international reach due to the outstanding quality and unmistakably grand feel of our furniture.
Our furniture is rich in heritage. So is our story.
The story of Griffiths & Griffiths begins like all the best fairy tales do: in a humble garage, with a hard-working woman at the helm - and nothing but meticulous attention to detail and uncompromising standards as the heroes.
While raising three small children, Gladys Griffiths began to restore unique antique pieces in her garage for her friends and family. Her outstanding restoration talents were soon noticed, and in 1986 she opened the doors of "Restorers and Renovators".